Citizen journal, The London School of Architecture publication, LSA architect design news, Images
Citizen architecture journal News
30 July 2021
Location: international
We share with you a new digital journal for the emerging era — Citizen.
This launch comes with a double issue — Citizen 3 and 4 — the latest issues of the relaunched journal of the LSA, now available to be read online.
The journal has been rethought to be a cumulative educational resource for both immediate reading and to be referred back to in the future. As its archive grows it will progressively fill voids within the hugely complex field architecture has become, dealing with subjects that cannot be covered within the limited time of the standard course.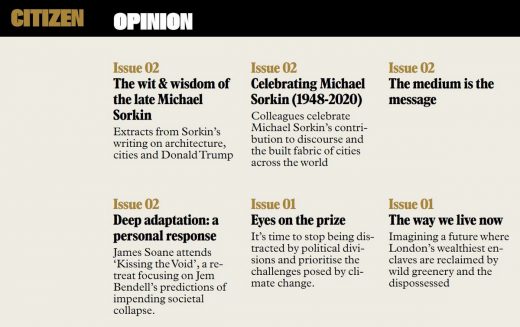 Each issue is loosely organised around a theme that gives it a particular focus and identity while also including features that will recur within each issue. Both of these issues, and probably most that follow, give over a large portion to showing recent student work from the LSA, here organised into Folios.
Citizen 3 is focused around the theme of architectural education while also introducing a few regular series that will progressively elaborate this theme across several issues. These include interviews with practitioner-teachers of renowned ruminating on how what they have learnt from teaching has influenced their approach to practice. Another series is the final thesis projects and/or dissertations of architects from differing decades giving perspective on how much the concerns of education change with time. Yet another series are of digests of books various architects and students consider as having messages worth disseminating in abbreviated form to colleagues. These recognise that many struggle to find time to keep up with their reading while being deluged with worthwhile, and often essential, reading matter.
The issue starts with an essay outlining its editorial ambitions and their rationale. Just as architecture is diversifying, so too are the various modes of architectural education with various independent institutions offering differing ways of engaging with and learning about architecture. In time perhaps architectural education will become a self-curated process that students and practitioners pursue over time. The folio portion shows this year's submissions to the Design Think Tank exercise. This much-lauded exercise is probably unique to the LSA and gives students an introduction to and early taste of current disciplines of practice. They involve group work and extensive research from which an ambitious design proposal emerges. The issue also includes an essay setting architecture and its education within a much larger than usual temporal and thematic frame to guide these through challenging and uncertain times.
Citizen 4 continues the various series introduced in Citizen 3, while a large folio section shows the final design projects from this year and last. The rest of the issue is loosely organised around the theme of community and place. There is an essay by community-oriented architect Jan Kattein and one on facades by historian Alan Powers. Another essay also explores Foster + Partners' transformation of Trafalgar Square, radically revising the flows of pedestrian and vehicular traffic. Yet this is so skillfully and subtly executed that, apart from removing the traffic along its northern edge most visitors, don't notice or remember this dramatic transformation.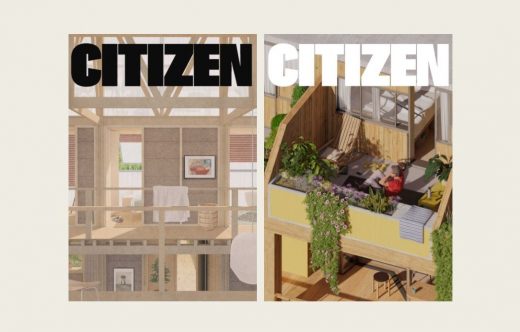 To find out more about Citizen, please contact Jason Sayer, Deputy Editor, jason@the-LSA.org
Citizen architecture journal images / information received 290721 from LSA
Comments / photos for the Citizen architecture journal page welcome