Liveability Challenge 2021 News, Architecture connection to space, SeaChange United States of America
Liveability Challenge 2021
29 July 2021
Eco-Business on Wednesday (July 28) announced the winner of The Liveability Challenge 2021, crowning seawater carbon removal finalist SeaChange to receive S$1,000,000 in grant funding from Temasek Singapore.
Liveability Challenge 2021 Winner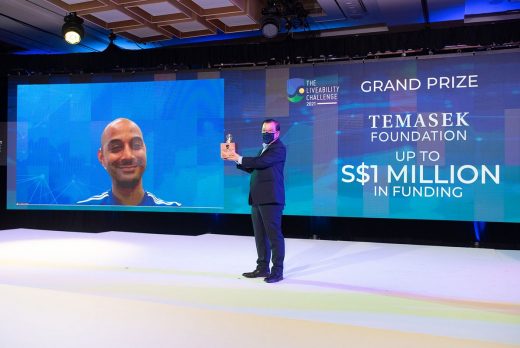 SeaChange, from United States, edged out 5 fellow finalists and 450 total applications across 60 countries to clinch the top spot in the global sustainability innovation competition.
SeaChange's solution seeks to address rising global emissions by extracting CO₂ from seawater using an electrochemical process that sequesters the gas in carbonates, an inert material comparable to seashells that exist naturally in all of the world's oceans.
In addition, other prizes that were presented to the finalists include:
• A S$100,000 investment by Planet Rise and an additional S$50,000 investment by Amasia were awarded to SEPPURE (Singapore) for its solution of sustainable solvent recovery and reuse using nanofiltration technology.
• A S$50,000 investment by Amasia was awarded to Divigas (Singapore) for its solution of hydrogen membranes used in carbon capture at refineries.
• A S$50,000 investment by Silverstrand Capital was awarded to NEU Battery Materials (Singapore) for its solution to recycle lithium batteries through a patented electrochemical separation recycling technology.
27 July 2021
The Liveability Challenge 2021
Finalists' Profiles
After several months and hundreds of submissions from organisations all over the world, the six finalists of The Liveability Challenge (TLC) 2021 have been selected. They will pitch their solutions at the event's finale on 28 July 2021.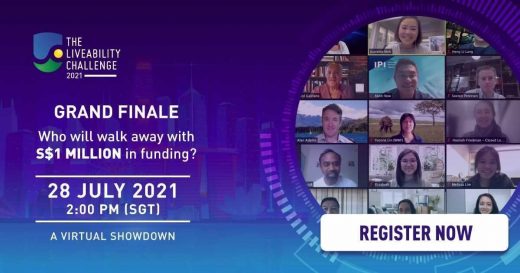 Learn more about each team below (listed in order of their presentation at the finale):
Carbon dioxide – From waste to opportunity
Econic Technologies Limited photos
About Econic Technologies Limited: The team seeks to develop new technologies to turn waste CO2 into sustainable polyurethanes, textiles, and surfactants. The solution by Econic mitigates the harmful effects of the increasing levels of CO2 in the atmosphere and has both immense economic and environmental potential.
Their entry seeks to introduce a future where waste CO2 can be turned into a commercially viable resource whilst still contributing towards protecting the environment.
The team from the United Kingdom is led by Dr Michael Kember, who is a co-founder of Econic, with more than ten years' experience developing the technology to turn CO2 into valuable polymer products. The team believes that emissions in polymer production can be reduced by 50 million tonnes per annum by 2035, whilst hundreds of millions of tonnes of CO2 emissions can be saved through use of the polyurethanes in energy efficiency applications like insulation foams. Econic offers a ready-now solution to catalyse carbon capture and utilisation and works towards making this a reality.
Sustainable solvent recovery and reuse using nanofiltration technology
About SEPPURE Pte Ltd: Developed out of the National University of Singapore, the solution aims to curb reliance on one of the most energy-intensive and polluting processes on the planet. To achieve this, SEPPURE uses a sustainable chemical-resistant nanofiltration membrane to separate chemical mixtures at a molecular level with minimal energy usage.
The company focuses on providing the most environmentally friendly solution to chemical separation available, while still delivering competitive products of the highest quality. Its solution has industrial applications in industries such as food, oil refining, petrochemicals, and pharmaceuticals.
The team from Singapore is led by Dr Mohammad Farahani, who has over ten years of relevant experience, three patents, over 30 publications with 1,100 citations. In 2020, Dr Farahani received the MIT Technology Review Innovator Under 35 award for developing SEPPURE's technology. He aims to reduce one billion tonnes of CO2 emissions by 2025 through the use of his solution.
Atmospheric carbon removal at the gigatonne scale
About Seachange, Inc: Seachange is developing a transformational solution to address rising global CO₂ emissions that leverages the power and scale of the world's oceans. The technology delivers an electrochemical process that extracts CO₂ from the seawater and sequesters it in carbonates, an inert material comparable to seashells that exist naturally in all of the world's oceans.
This process uses a first-of-its-kind electrolytic flow reactor, producing hydrogen as a co-product, and can be powered completely by renewable energy, achieving what incumbent solutions, including direct and indirect air capture, cannot by ensuring energy efficiency and permanent CO₂ removal.
The team is led by Gaurav Sant, Dante Simonetti, and David Jassby, who have extensive knowledge in carbon dioxide mineralisation, process engineering, electrochemistry, and process scale-up. Seachange will deliver a gigatonne-scale solution to reduce CO₂ atmospheric accumulations to meet the global goals of limiting global temperature rise to 1.5°C.
Seachange, Inc. (website still under construction)
O2XTM: Making sustainable packaging possible
About Aegis Packaging Pte Ltd: Aegis Packaging provides a high barrier coating to food products that helps extend its shelf life. Called O₂X™, it keeps oxygen and contamination away from the packaged product, whilst keeping the aroma and freshness of the product intact. In terms of sustainability, the packaging can be up to 95% recyclable with a recyclate yield of 100%.
Aegis Packaging projects O₂X™ would transform 6 billion plastic packaging yearly into recyclable packaging, which translates to a replacement of around 100,000 tonnes of plastic.
The company has previously been featured on media such as The Business Times and Channel News Asia.
strong>Hydrogen membranes used in carbon capture at refineries
About DiviGas: Co-founders Andre Lorenceau and Dr Ali Naderi developed a nano-molecular filter that separates hydrogen gas from CO2 and other tough gases extremely effectively. This has numerous benefits in refineries, including notably, in lowering the cost of carbon capture, potentially saving billions of dollars and avoiding millions of tonnes of CO2 from being released into the atmosphere.
This technology supplied by DiviGas can ensure that petrochemical plants and refineries are able to seamlessly and cost-effectively separate and recover hydrogen and other gases.
Andre Lorenceau and Dr Ali Naderi combine their deep tech expertise with practical commercialisation and are currently preparing to run pilots with various major oil and gas industry partners. DiviGas has over eight partners waiting for their pilots resulting in potentially dozens of millions in sales.
Divigas
Producing clean and sustainable lithium
About NEU Battery Materials: This solution aims to reduce mass pollution generated from raw materials mining. With NEU's patented electrochemical separation recycling technology, lithium batteries are recycled in a clean and sustainable manner to produce battery grade raw materials. This creates a circular value chain and provides a sustainable future for everyone.
The team is led by Bryan Oh, a young Singaporean entrepreneur with experience in launching start-ups. He founded NEU Battery Materials with the hope to one day create the largest lithium company without ever owning a single lithium mine. NEU has so far raised pre-seed funding, scaled the technology over ten times in the past few months, and secured pilot sites in Singapore and China. NEU is ready to shape the foundation of our clean future.
Date: Wednesday, 28 July 2021
Time: 2:00pm – 5:15pm (SG/GMT +8)
Link: https://events.eco-business.com/events/the-liveability-challenge-2021-grand-finale
Liveability Challenge 2021 images / information received 260721
Comments / photos for the Liveability Challenge 2021 page welcome