Guide to intercom systems, Architectural design, Architects news
Guide to intercom systems
17 Oct 2022
When we look at the buildings, we want to look at the holistic solutions, which start with access to the premises, for instance, for cars, trucks, and people. And Intercoms are the best choice as they make management of the building convenient to allow entrance after satisfaction instead of wasting time by rushing to the gate again and again. In addition to service, Intercom Systems are vital for security reasons.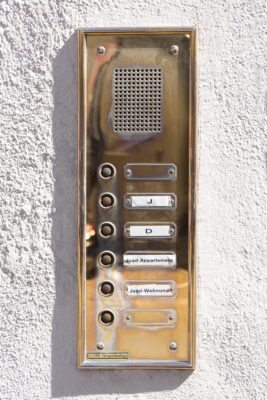 Bi-directional video calls in intercommunication devices have increased security manifold. In this composition, we will tell of different types of intercom systems, how they work, their pros and cons, and whether they should be installed in buildings. After reading this article, it will be easier for you to make the right decision.
Types of Intercom Systems
Hard Wired intercoms
Wireless intercoms
Video intercoms
Mobile-connected intercoms
Automatic Gate Entry
Carrier Current intercoms
Hard Wired intercoms
Attenuation in internet connections is always annoying for residents, management and staff. Imagine your guest being stuck out of the house due to a bad internet connection or intercom. To avoid these circumstances, hard wired intercoms are reliable so that no one is punched out of the house in bad weather. Although they are costly to install, they are more dependable.
Wireless intercoms
Wireless intercoms act like stationary security cameras but some wireless intercommunication devices also use radio waves. While buying wireless intercoms it is essential to ensure that they are encrypted to prevent interference. These wireless intercoms can also be used as doorbells.
Video intercoms
Video intercoms are best for security purposes. Modern basic IP video intercom kit is becoming the first-class choice these days. It has simple setup and easy surface installation. The mobile app can receive calls from the penal anywhere in the world. The cameras on the video intercom are made up of waterproof materials. Furthermore, they also have night vision capabilities. The demand for video intercoms is increasing day by day.
Mobile-connectedintercoms
More than 80% of people in developed countries have smartphones. Thanks to intelligent technology, our smartphones can easily connect to intercoms. A wide range of apps such as Alexa, Google assistance, and many more through which our smartphones can be associated with intercoms. BAS-IP UKEY is a free application for IOS and Android smartphones, which gives access to the building where the BAS-IP outdoor systems are installed
Automatic Gate Entry
The mechanics of automatic Gate Entry are elementary as it uses an electric motor to open and close the gate, thus allowing only authorized guests, people, and residents to enter the premises. This technology has provided the tenant's peace of mind and a sense of security.
Carrier Current intercoms
A carrier's current intercom system uses AC to receive power, allowing it to work with the electrical grid. The quality and range are not suitable as in wireless and hard-wired intercoms. However, they are as reliable as wired and wireless intercoms. But many features are missing in Carrier Current intercoms.
How does an Intercom system work?
An intercom system allows visitors to call tenants in a building or apartment. They are then sending audio and video signals to the substation device so tenants can communicate with visitors and allow them access to the building or apartment.
What is the price of installing an intercom system?
Prices for an intercom system for an apartment vary from 1000$ to 7000$; it does not include the installation cost. But an advanced intercom with the latest audio and video technology may cost up to 10,000$. Despite such a massive gap in the price level, it is straightforward to calculate the price of hardware. But the hard part is calculating the installation cost and its future maintenance.
BAS-IP intercom system
BAS-IP intercommunication devices is an international technology company that focuses on developing and manufacturing IP intercom devices. BAS-IP Company produces many products relating to video and audio outdoor intercom systems and mobile access for intercoms.
Pros and Cons of intercom system
Benefits of intercom system
It improves the living standard and comfort of residents. Intercom systems increase the security of residents so that people can live with peace of mind. Interaction distantly with visitors also reduces the managerial cost in large buildings and apartments. Besides increasing the attractiveness of the building, Intercom systems take control of all access points. It secures the building and apartment against unwanted visitors and intruders.
Modern-day intercoms also help parents watch for their children while playing outside the building. Whether you are living in the US, the UK, or any part of the world, intercommunication devices have become the need of the day.
Disadvantages of intercom system
The disadvantage of intercommunication is that good-quality intercoms are too expensive. Furthermore, the frequency of wireless intercom can be interfered with by the signals of another device; in the past, there were chances that your conversation might have been heard if people were using another device.
Intercom systems have changed our lives; Intercoms are the best choice when you need communication at home and in offices. Tenants can control their visitor's access. It keeps residents of the building safe by controlling the traffic of unwanted people.
Comments / photos for the Guide to intercom systems page welcome